Upcoming Event - World Book Day - Thursday 5th March 2020
Children are invited to dress up as their favourite book character and bring to school their favourite book. We will have reading activities taking place throughout the day and there will be prizes for the most original outfits. All children will be given a voucher to exchange for a book.
A £1 donation on the day is requested. The proceeds will go to the World Book Day charity.
The Author, Anna Lucas, visits St Jude's
Upcoming Event - Pyjamarama Day - Friday 5th June 2020
This will be our first time celebrating 'Pyjamarama Day'. Children should wear their pyjamas to school and bring their favourite bedtime story book.
During the school day we will have reading challenges and children will have the opportunity to make up their own bedtime story. A £1 donation per child towards the charity 'BookTrust' will be appreciated.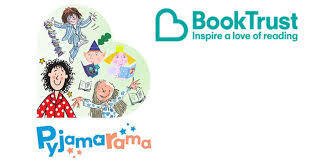 The Book Bus visits St Jude's
The book bus visited our school on Monday 28th October. Every class had the opportunity to visit the bus and parents went on to the bus at the end of the day to buy books for their children.