Welcome to our Year 4 Information Page. On this page you will find our Y4 curriculum plan, our latest termly class newsletter, details of our homework projects for this half term and any other information about what we will be doing soon!
You can also view our Year 4 photo gallery.
Curriculum Plan and Homework
So that everyone knows what we will be learning about this year, below is our curriculum plan.
To support our classroom learning, each half term Miss Sayer will give us a homework project. Our homework projects' will be displayed at the half termly parents' coffee morning so that everyone can see our work!
Below is our homework information for this half term:-
Outdoor Learning
Each half term we will have at least one lesson outside.
| | | |
| --- | --- | --- |
| Term | Subject | Focus |
| Autumn 1 | Maths | Place value – use objects found outside to represent a number. E.g. leaf = 100, twig = 10, stone = 1. Children asked to make amounts and then challenged to add, subtract, make greater/less than. |
| Autumn 2 | Science | Sound- recognise that sounds get fainter as the distance from the sound source increases |
| Spring 1 | Geography | Walk around the outside of school and look at the local land use. Identify human and physical land marks that can be seen from school. |
| Spring 2 | Science | Habitats - identify a range of habitats around school. |
| Summer 1 | English | Temple of mystery – create mystery temples outside. Children in groups of 4 to create scenes of story and role play Talk 4 Writing adapted story. Children can use chalk to draw and outdoor resources to create scenes. |
| Summer 2 | Maths | Position and Direction – find real life angles and mark them and compare them. |
Termly Class Newsletter
Each term Miss Sayer will send parents a newsletter. This is our most recent newsletter:-
Year 4 News
Year 4 have just begun a science topic all about Teeth and Eating. We were very lucky to have a visit from a dentist to start off the topic. The children had plenty of questions and found out all about our different sorts of teeth and their individual jobs. We also found out the correct way to clean our teeth.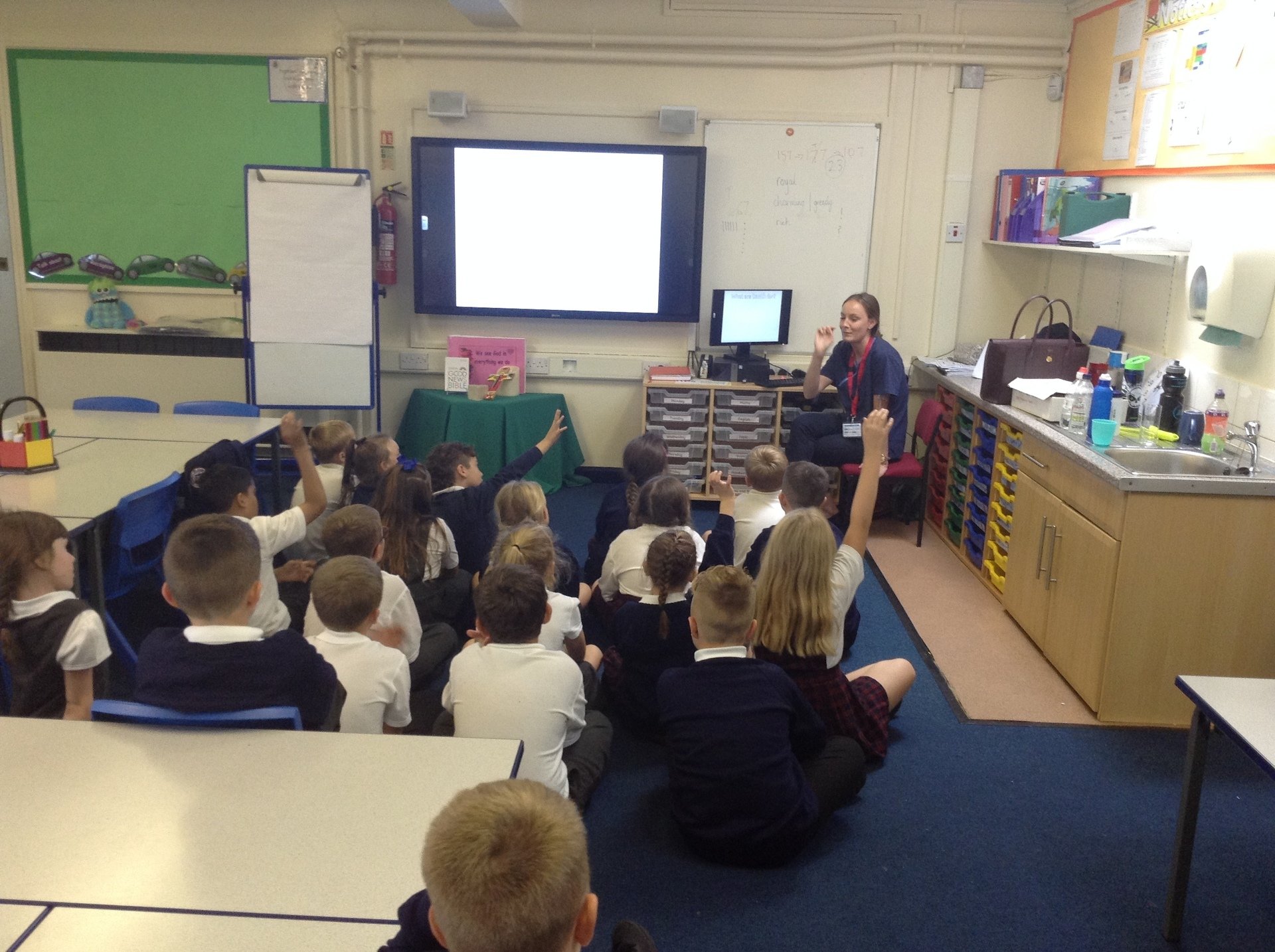 If you have any questions or would like any further information about the curriculum or how you can further support your child's learning at home then please speak to your child's class teacher.
If you would like any copies of the documents on this page, the school office will be happy to print them for you.